Hi y'all,
I've been working on a new mobile website that features more information/graphs for my Cumulus website using
jQuery's Mobile Interface
and PHP scripting. I'm just looking for comments, questions, critiques, suggestions, etc to improve it.
Remember: it is still a work in progress! Not all pages work at this time.
The mobile site is mainly compatible with WebKit browsers (Chrome/Safari) and, of course, iPod/iPhone/iPad. The template is also said to be compatible with many web-enabled phones.
Here's a list of compatible phones
.
The difference between the current Cumulus page offered here is that this one uses JavaScript for minimal loading time. To load the front page, it only grabs the JavaScript files, tiny images, and links. Not all the pages. Once you click a page, it sends an AJAX request to fetch the page and render it. On my iPhone 4, this takes hardly any time, even on EDGE. In addition, I have created a "live conditions" page that fetches live conditions as they are updated on the main site, which uses daj's live conditions script (with permission) including numerous of edits (status messages, ability to work with intermittent internet connections) in order to make it work properly on the mobile-optimized website.
Now,
this is a work in progress
and it will take me some time to get everything working properly. But once I do get started, I shouldn't take long to finish. I did all you see now in about 6 hours of web dev work, so expect some little buggies (help me squish them please!).
Again, I'm taking
any
comments you may have. I'm not concerned with the looks, but rather the functionality of the site. Test it on your devices and let me know how it looks. If it's all good, I'll make a public-production release for everyone to use. I'm not sure how likely I'll make it international use (in reference to the "forecast" page, since it uses NOAA's forecast), but if I have enough requests for it, I'll try..with some help possibly.
So, now that I've explained my project, here's the link to it: MCWX Mobile.
Screenshots from my iPhone 4: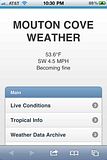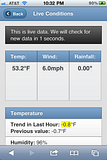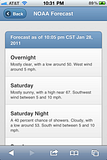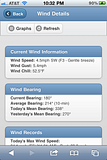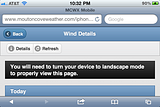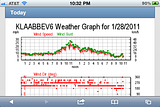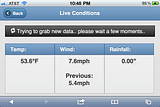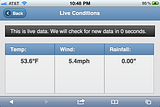 Thanks,
Jared
_________________
MOUTON
COVE
WEATHER
Weather from a small community in Louisiana -
http://www.moutoncoveweather.com/