Here is my webcam.
To view the Webcam live (updates image every 5 seconds), please visit URL below.
http://www.wokinghamweather.co.uk/webcam.html
I am using a Playstation 3 Eye as the webcam with a Hoya
circular polariser attached. I had to mount the Polariser
into a cotton bud plastic box which I cut a hole in. And
then taped to the top of the Camera.
Ok I know it looks a bit Blue Peter, with all the tape
and blue tack
, but it seems to be working quite well
especially as it is viewing through double glazing and
a Polariser lens.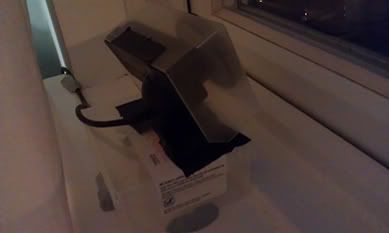 // 13/08/2011 update //
I have now purchased a Micrsoft LifeCam, and the 1st webcam image
is now displaying images from the LifeCam and not my old setup which
was using a Playstation Eye (old setup is shown above).
_________________
Cumulus Real Time Data Grabber
http://bit.ly/WjBh5z
Wokingham Berkshire - weather station
http://www.wokinghamweather.co.uk
MRD Photography
http://www.mrdphotography.co.uk