I did in fact buy solar and UV sensors, and the Davis sensor shelf from Rainmanweather. The installation instructions were clear enough but some tolerances were a bit snug. In particular getting the last (of five) cables in through the port in the bottom corner of the SIM was quite a bit of bother. Much less serious, but still a little awkward, was that fitting the top of the rain gauge back on, which has never posed a problem, was somewhat tight.
Happily all came up and worked right away, though I did not find all the places to enable solar and UV reporting in Cumulus plus Weatherlink at first try. (I stop Cumulus twice a week and run Weatherlink just to download the data--which gives me two copies of the data, and the ability to look at the past in either). It also took me a while to add appropriate modifications to the Cumulus template files for the various pages of the website Cumulus generates for me. I currently have at least a little solar data on the index (a.k.a now), today, and yesterday pages of this web site:
Lynx Stoll weather by Cumulus
Weather Underground posting worked fine as soon as I enabled the Cumulus solar and UV checkboxes in the Configuration|Internet|Weather Underground sections.
Lynx Stoll Wunderground page
The first two days my sensors were in operation were very nearly cloudless, aside from some thin late afternoon cirrus. This allowed a look at the cloud-free light curve, and comparison to the "max solar" curve provided by Cumulus for my location and these dates.
1. Near winter solstice, the sun rises in my location far enough south to be blocked by my next-door neighbor's house, so there is an abrupt kink in the curve about 8:47 a.m., which would otherwise kink about 8:15 a.m. when it would clear the Sandia mountain range.
2. Any time clouds, the neighbor's house, or mountains were not in the way, the solar sensor recorded considerably more light than the Cumulus max solar curve. While this could be a mis-calibrated sensor, other Davis Vantage Pro2 owner data persuades me that my sensors are not high outliers. Possibly the curve was built not expecting that air could be as transmissive as it is here. Or possibly there is an error somewhere. Here is a screenshot of the data for the solar radiation sensor at my station here in Albuquerque, NM for January 11, 2012 with the solar max curve reference.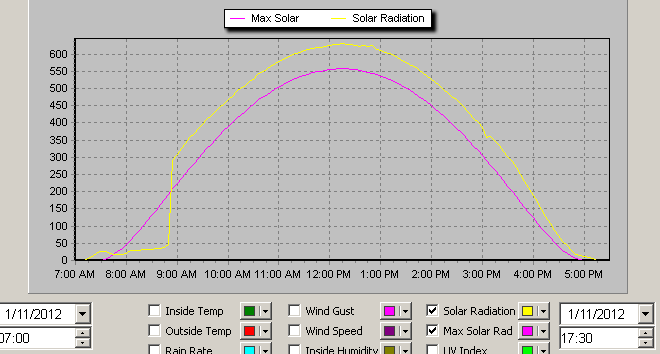 3. The UV index data for my sensor has resolution steps of 0.1, but as it tapers off at the end of day, it steps right from 0.5 to 0.0 A review of the Wunderground postings for some Davis Vantage Pro 2 Plus stations near here and also near Phoenix suggests this is their usual behavior, and would also be present in the rising curve in the morning were it not that the abrupt transition as the sun clears my neighbor's house makes the initial step even larger. (just to be clear, I think this 0.5 cutoff is a Davis, not a Cumulus, matter)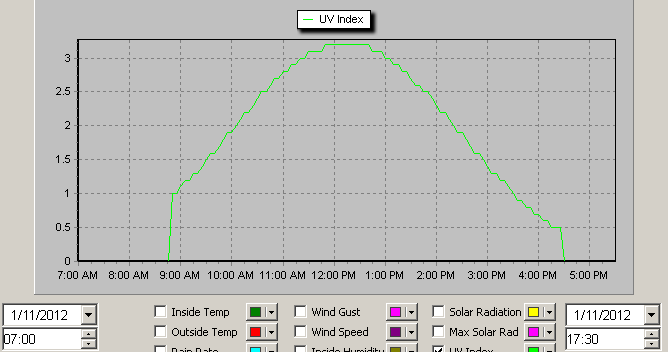 Cumulus thoughts and possible upgrade opportunities:
1. If you follow me, you may wish to upgrade to the latest release of Cumulus before starting to tamper with things, as there are optional sections for solar data in the templates. But you may wish to consult the HTML tag section of the Cumulus help and consider adding more that the template files provide.
2. I'd like to think that the evaportranspiration data could be helpful in controlling irrigation or watering, but the HTML tags mentioned in the current (1.9.2) release Cumulus help only seem to provide ET since beginning of current day. Were one provided for ET since, for example, the beginning of the current year, then in principle a neighbor could write down the rain year to date and ET year to date each time he watered his plants, then in considering whether and how much to water again, could just subtract the currently displayed year-to-date values from the ones written down at last watering (most likely with a bias factor multiplied by the displayed ET to allow for differing plant type, wind sensor offset, ...)
This is not really a barrier for my personal use, as the Davis console displays both Rain year to date and ET year to date at the press of a couple of buttons, but much of the fun of posting weather data is the hope it could be useful to someone else. I'd like consideration to be given to supporting in a future Cumulus release HTML tags for Yesterday's ET, and year-to-date ET.
I suspect some past summary statistic would be good to have for UV and solar radiation data as well, but it is less obvious which would be most appropriate or helpful. To me, personally, it would make sense to have the integration across the observing day of both Solar radiation and UV, but apparently these are not traditional measures to report in weather circles. So I can't reasonably ask for this.