Finally, after two weeks of coding, testing and debugging I have now released a new version of Grabber.
I would advise anyone using an older version to update to this one as this version sorts out a problem when the program
was 1st started and no URL was present, as it would crash. This version now displays a message box to inform the user what
info needs to be entered. Then once the user has saved the URL all future starts of the program will automatically load the
URL and will no longer cause a problem.
Quote:
nitrx
quote from earlier post, "It should be nice to export the graphs in (selectable) intervals to disk (they can be ftp-ed to websites) I always think a graph says more as a huge page full with numbers".
Well I am happy to announce that with this version it brings chart image saving and FTP image upload as well as a pre-made
HTML webpages to display the data
NOTE:
Please read the additional notes at the bottom of this post for information on chart saving and
FTP uploading, this info is also available in the accompanying readme.txt file within the distribution
ZIP file.
Download version 1.3.1
:
http://www.wokinghamweather.co.uk/downl ... DGv131.zip
New in this version:
1.3.1
- (15-05-12)
1.
Added Option to save and upload charts to remote FTP site.
2.
Added simple webpage templates to display chart information.
3.
Code added to handle no realtime.txt URL on load.
This release also incorporates the following unreleased test version updates:
1.3.0 - Cleaned up code, tidied up readme.txt file. (not released)


1.2.9 - Test version. (not released)

Recoding of Saved Image code so that image quality is increased.
Added rain, frost, fog predictions & Data Time&Date stamp


1.2.8 - FTP Test version. (not released)
SAVING AND FTP UPLOADING OF CHART IMAGES:
You can now save charts and automatically get them uploaded to a remote FTP site, by pressing
the [Start Export Charts Button].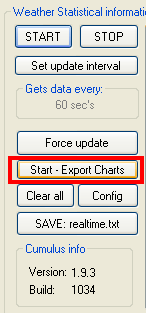 Before doing this please press the [Config] button to setup your FTP credentials.
You will also need to create a folder on your FTP site called "grabber" which is where the images and
webpage will be uploaded to. You will need to supply the url to this folder when Configuring your FTP Credentials.
Also you must have a folder called "charts" residing in the same local folder as the "Cumulus RealTime Data Grabber.exe"
program file. By default when you unzip the *.ZIP file the "charts" folder will be created.
Within this "charts" folder there will be the Webpage Templates:
GrabberIndexT.htm
(Landscape webpage)
GrabberIndexPortraitT.htm
(Portrait webpage template)
Please note that the file "GrabberIndexT.htm" is the main file that will be uploaded automatically by the
program and when it gets saved into the remote "grabber" folder it will be then be called: "grabberindex.htm"
Therefore if you want to use the "GrabberIndexPortrateT.htm" webpage instead of the landscape version,
just rename the local file in the "charts" folder "GrabberIndexT.htm" to "GrabberIndexT.org" and then rename
"GrabberIndexPortraitT.htm" to "GrabberIndexT.htm", so it will be uploaded.
I have set the FTP uploading of the files at 15 minute intervals once the [Start Export Charts Button] has
been pressed. Please be patient once the button has been pressed as the FTP connection and uploading
of the files may take a little while to perform their actions.
NOTE: Charts are reset at Midnight.
Reduced size sample of HTML pre-made template:
Feel free to modify the HTML Templates to suit your needs.